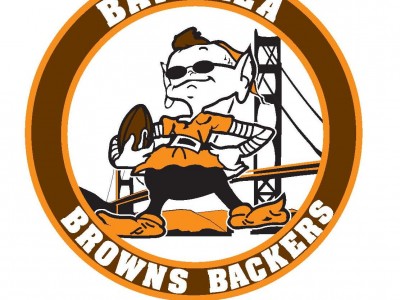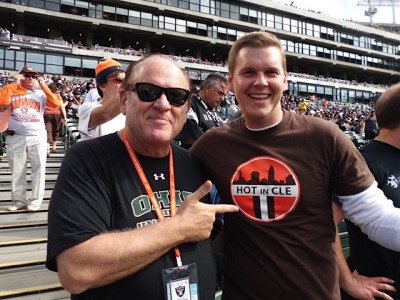 BABB membership is fun.
Cheering together is like your own personal 
group section in Cleveland Stadium!
Browns backers in the SF Bay had more cheers together this past season than in many years. Enhance your game viewing experience by attending one of our SF Bay area locations, see our viewing location page for addresses. And support this all volunteer club that adds to your Browns experience. Browns backers are part of the largest NFL fan base and have the most fun cheering Browns together, Join BABB today, click on the Join BABB page and print a 2016 BABB Membership form out. Thank you.
————————————-
With Coach Hue Jackson and upgraded WRs – the Browns are set up to improve! 
In 2016 the Cleveland teams have won the NBA Championship, American Hockey League Championship, the UFC Heavyweight Title and the Indians will win the American League Central Division and make it into playoffs. At 200 to 1 to win the Super Bowl, it sure is a long-shot. Hey, the 5,000 to 1 Leicester City won the British Premier League.  And the Browns can prove the experts wrong if  Robert Griffin or USC rookie Cody Kessler produce, the team will do better than most predict. Always remember – the Browns have the greatest history in pro football with 8 Championships and a classic dynasty team with ten straight championships in years past. Browns were actually the first undefeated team (1948) in football (yes, before Miami!) That keeps us going, but we need to see Browns get back to playoff ball to reward the biggest pro football fan base.  Be with us, be strong, and watch new Coach Hue Jackson build a winner!
SUPPORT and Join BABB today – see JOIN BABB page.
With members from Alaska to New York and all over the USA, support one of the best BBW clubs, all-volunteer, fun, with great newsletter, member gift and access to great seats in Browns stadium and option to get our cool Tee!
———————–
Go to Bay Area Browns Backers Facebook page, like us and comment!

Click Facebook logo link at the top of this page or here: https://www.facebook.com/BayAreaBrownsBackers
———————–
BABB Adds 2nd SF Location & Liaison
Bay Area Browns Backers (BABB) newest San Francisco location – Bartlett Hall, overseen by BABB Liaison Mike Zimmer, was a success.  Bartlett Hall is at 242 O'Farrell Street (just one block from Union Square), and will feature a quality dining menu.
BABB's original SF location – the R Bar – remains in place, and is fun as ever with Erik Elder and Dan Beach as BABB Liaisons. The logic behind adding another spot is that Bartlett Hall will feature food and will also permit minors to attend. (R Bar is 21 only).
————————————
Cool in Cleveland!
See Hector Lopez, our own San Jose based Bay Area Browns Backer in Cleveland and other areas wearing Browns gear. Young Hector is a talented, cool young man and he and his family are loyal Browns fans. Click this YouTube link: http://www.youtube.com/watch?v=Rg-H_h0539A
———————————–
Win or lose, Browns fans have the most fun in NFL, and in 2015 get ready to see more winning!
See all Browns games at one of our SF Bay locations. Click the BABB Viewing Locations page to find the nearest BABB site. Email me for more info: budg@earthlink.net.   –Bud
Cleveland area attractions are world class!
Cleveland is being recognized nationally now as a travel destination. This season you should plan to see a Browns game in Cleveland. BABB has up to six seats to offer you. While in town, visit Cleveland's Rock Hall, Vegas built Jack's Casino, Great Lakes Science Museum, Orchestra, Art Museum and new downtown dining: all world class, for more info see: Useful Cleveland area and Browns links.n